Field of Flowers
What do you do when you've been bred for violence and you suspect your uncle has killed your father? That's the issue Anselmo struggles with as he tries to convince Fernando, his childhood friend, to join him in taking revenge against their uncle. Field of Flowers is the historically accurate novel of two men in search of truth in the corrupt, violent, and drug riddled world of Colombia in the 1950s. It is the story of a train ride that winds down from the mountains towards the coast where the upper elite of the country wait for them, along with a security force ready to overthrow the government.
Field of Flowers is a web of intrigue that starts high in the mountains and rolls to the craggy ocean coast of Colombia. Join Fernando and Anselmo on a journey into the savage heart of 1950s Colombia, as a journey into their own souls. It is a Colombia full of violence after a civil war, and a country uncertain of where it is going. The country, like the two heroes, is on a collision course; a journey hurtling faster and more out of control with each passing click of the tracks. Field of Flowers is the story about what happens after that fate, and of country, of honour, of brutal truth, tender bravery, and love.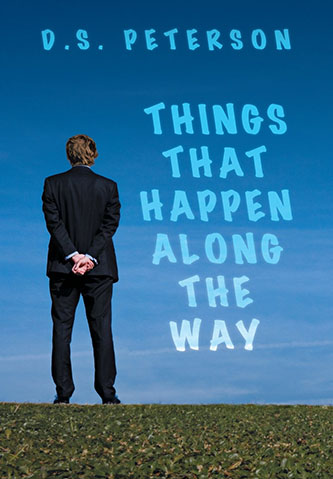 Things that Happen Along the Way
The story of Ray Tinder, a young Canadian locked into a life he thought he knew. On the surface he is a man who appears to have everything: a new Porsche, a beautiful wife, and a lucrative position at a prestigious brokerage firm. But just as he reaches the peak of his career a random event sends him sideways and changes his life forever. As a result Ray Tinder drops everything to embark on a road trip to see the ocean in an overwhelming obsession not even he understands.
Things that Happen Along the Way is the story of one man's discovery that not all people are created free, and the story of discovery and of redemption. It is also the story of a search for purity in an impure world. Things that Happen Along the Way is Peterson's fist novel and a powerful showcase for his narrative talent. It is the ultimate road story, and by turns; moving and compassionate, strong and brutal, rare and beautiful.